The definition of the typical stages of design and molds manufacture can be found in the "
Manufacturing of molds
" section.
Further we describe the features of creating blow molds for bottles, jars, cans, kegs and other hollow containers for various purposes products.
Blow molding refers to the most dynamically developing types of processing of polymeric materials. A distinctive feature of this is a possibility of obtaining products in which the inner cavity is larger than it's top (neck).
As a rule, our customers are trying to develop their own individual design of the packaging that most fully meets their features, current market trends, end consumer's expectations.
We try our best to help our customers make a choice: on which design of bottle or jar is better to stop. By the common practice, any final product meets a number of basic requirements:
Attractive appearance for a wide range of end-products buyers.
A high level of design solution, which will be highly appreciated by both: an ordinary end user and professional expert person engaged into the selection of goods for sales in specialized stores or retail nets. At least we always focus the customer's attention on certain aspects of design by demonstration similar samples of other generally recognized design solutions, even so they do not correspond to the customer's initial imagination. Of course, the customer's desire is the law for us, but ultimately customers often remain grateful for the more successful design idea we've proposed.
Product manufacturing effectiveness. In fact, not every shape of a bottle or jar is suitable for further use can be obtained by blowing. Most of limitations of shapes (designs) takes place for bottles of PET, e.g. for carbonated drinks and beer, some smaller limitations for bottles made from PE, but nevertheless, there are its own nuances and "underwater rocks". Having many years of experience, we always warn customers about the possible difficulties of subsequent manufacturing, offering to change any elements without changing the general design concept.
Product usability. Even so any good and attractive bottle may not be convenient for storage, transportation, safety of the disposed-in product, or occurred is non-friendly for human use. We have a lot of information and help to our customers to prevent these problems and foresee the possibility of their farther occurrence.
Accounting for the shrinkage and deformations. It is important to calculate correctly the shrinks and possible deformations in the blown parts and their further use. Especially it's true for bottles designed for carbonated drinks or cosmetics (where the exact geometric dimensions are particularly important in order to avoid rocking on a table and the reliable joining of proper closure). We taking into account the material used and the manufacturing technology. We also have a wealth of experience in this field.
Minimizing of production cycles along with achieving high quality. When designing molds, it is very important to increase their productivity. The blow mold cooling system, especially for extrusion blow molds (e.g.molds for the production of jerry cans and kegs), should be maximally effective, along with an increase in overall productivity, without local product exterior deformation (e.g. dimpling or buckling), deterioration of sealing properties, swinging products on a flat surface (tsble or store shelf), as well as damage at the time the product is removed from the mold. Often, the production of an effective cooling system is more than half the labor of making a blow mold as a whole. We have many developments in this field with extensive feedback from our customers.
Only after the final agreement of the drawing of the product with the customer, we proceed to design and manufacture the blow mold. For more information about our moldmaking technology, please refer to: our
metal processing shop
facilities overview.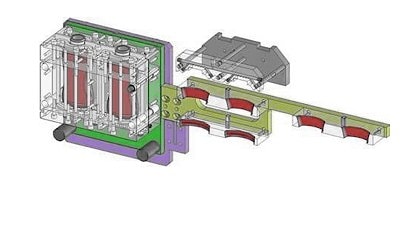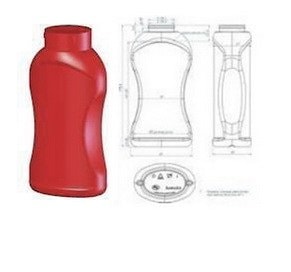 The final stage of manufacturing.
A sample of the bottle presented to the customer after mold post-manufacturing tests. We control the quality of the product, the nominal volume, we give customer recommendations on blowing technology. After testing the molds and getting customer's provements, blow mold is finalized:
final shapening of cutting side-knives;
removal of visible traces of longitudinal clamping line;
elimination of rocking (swinging);
bottles docking with closures as caps or lids;
leak tightness checkup.
This primarily concerns molds for products produced by extrusion blowing from PE, PP. For PET blow molds, final modification is either not required, or simplified to fine-tuning the gap between the cap and the bottle.
Gallery of photos of molds made by Plastic Technologies
© PTL
Semi-automatic blow molds for PET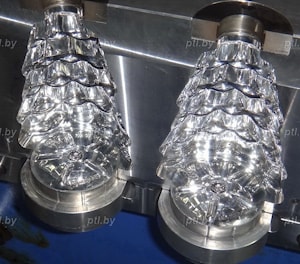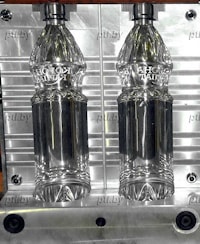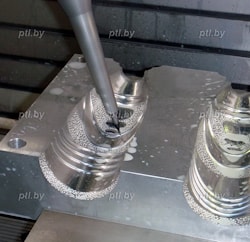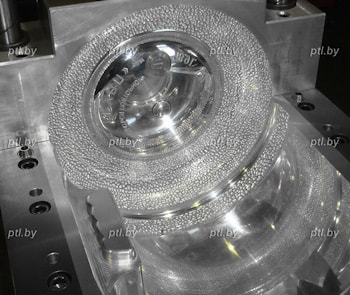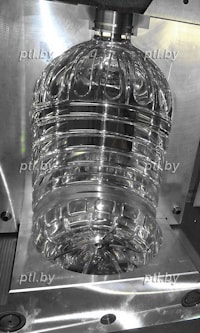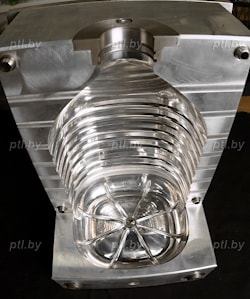 Automatic blow molds for PET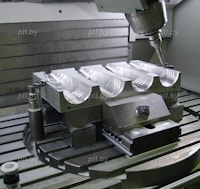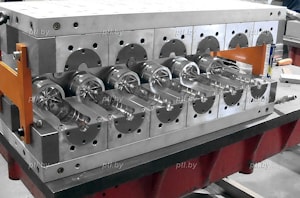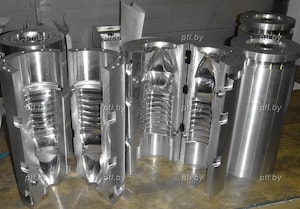 Extrusion blow molds PE, PP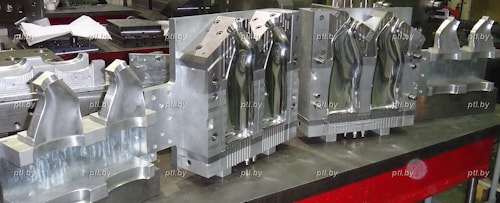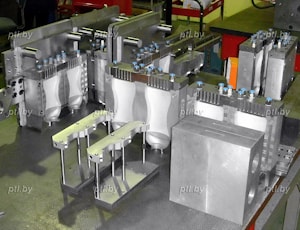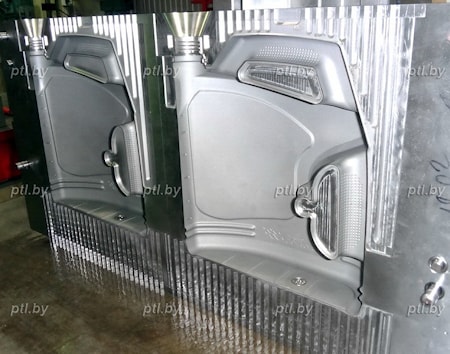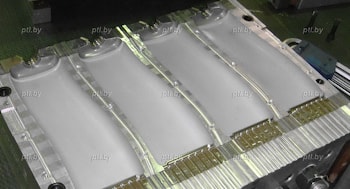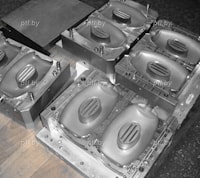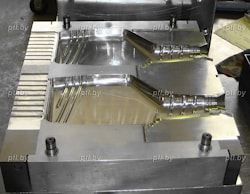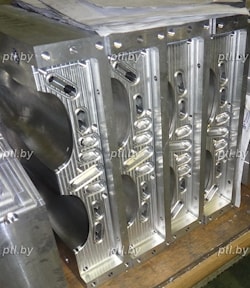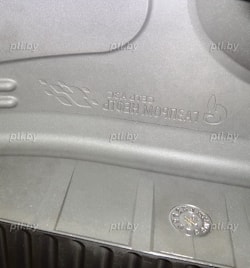 See also
Photos by PTL STUDIO ©
.
Possibilities of designing of plastic packaging
In most cases, customer intended to have their own design according to their own marketing strategies and developments.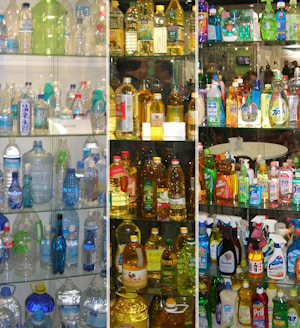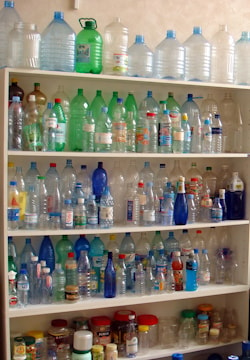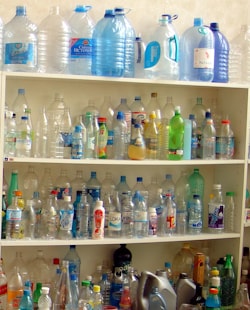 Having our own collection and bottles collected from many countries, as well as an extensive collection of digital photographs from exhibitions and presentations, we strive to help our customers as much as possible to make a rather difficult choice: which design of bottles to choose? We help our customers to make choice based on out experience and approaches of manufacturers from different countries.
Next is the process of creating 3D models, their visualization in any foreshortening, imitation of lighting with the overlay of virtual layouts of labels, working out different versions.
After approving with the customer the 3D images of the bottles of their drawings with all the necessary sizes, we proceed to the manufacture of blow molds.