Plastic Technologies Company – Plastic Injection & Blow Molds Maker / Plastic Goods Manufacturer
Plastic Technologies Ltd. company has 20 years of work experience with equipment and technologies based on using plastics in the food, cosmetic, pharmaceutical, electrical, automotive, construction and other industries.
In 2017 we built our own production complex in Minsk with subdivisions:

- CAD-CAM-CAE burеau providing design & technology management, supporting R&D projects;
- metal processing shop (precise CNC metalworking: EDM/WEDM-sparking, cutting&sewing, milling, turning, drilling&boring, threading, hardening, grinding, polishing, manual finishing and so on) providing a full manufacturing process of molds, dies, tools and scoop of technological equipment: from selected types metal blanks up to comprehensive testing of finished products before delivery to customers;
- workshop for production of ready-to-use plastic products;
- goods warehouse & logistic for packaging, marking, stocking of finished products.
Our core competencies
Design and manufacturing of molds
We make molds for injection molding (PE, PP, PS, PC, POM, ABS, SAN, PA, PET etc.), for PE/PP extrusion blow molding, for PET stretch-blowing (bottles, flasks, jars, large kegs for beer and so on).
Along with the manufacturing оа pressure molds for products of various use, we have a number of specializations in which we have many years of experience and extensive customer feedback including:

Molds for injection
- PET preforms in a wide range of types, neck-screw standards, weights and purposes;
- disposable cutlery (forks, spoons, knives, stirrers);
- closure & sealing products (caps,, lids, handles, valves, auxiliary and decoration elements to them);
- stationery articles (vertical and horizontal trays, pencil containers, jars and boxes for gouache and watercolors);
- products and elements for build remodeling, finishing (corners and connectors for PVC skirting, wall panels, interior & exterior specialities and so on);
- various plastic cases including a transformable type for the production to have got of an assortment of products made one mold with core or cavity parts (plug-in inserts) exchange only.

Molds for blowing
- of PET preforms (bottles, flasks, flasks with side handle, jars, kegs) for bottling and packing: water, carbonated drinks, beer, alcohol beverages, juices, dairy products, vinegar, vegetable oils, sauces, syrups, honey, bulk products: tea, spices, salt, technical liquids, shampoo & creams, detergents and (with exception of alkaline staffs), household and automotive chemicals, water-soluble, acrylic paints and varnishes, medicines, etc.;
- of polyethylene, polypropylene, etc. (bottles, flasks, cans, water bottles, cans of all types) for bottling and packing: dairy products, ketchup, mayonnaise, washing and cosmetic products, household and automotive chemicals (including alkaline or acid), creams, chemical liquids, solvents, car engine oils, windshield washer fluids, paints and lacquers, medicines, loose products, etc.
Equipment
We propose equipment and peripherals for injection molding, extrusion, blowing, thermal shaping, recycling of plastic products for various purposes, its technical support and service maintenance.
Services of plastic materials molding
We offer our services of injection molding on the our own equipment located in Minsk (Belarus) for our of molds customers which do not have their own plastics production facilities. In this case, customers on a contract basis deposit their molds, do not bear any costs and risks for the current (including post-warranty) service. They pay only for the readу products on the previously negotiated price & conditions basement, fully agreed schedule for the goods (parts) production and dispatch to the buyer's address.
Batch production of own plastic products
We launched the production of own design plastic products under the PTL brand.

About Plastic Technologies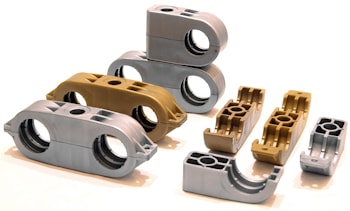 We present our new product, which has no direct analogues on the market: PTL Plastic Multi-level Pipe Clamps . Plastic clamps are designed to be used instead of traditional metal clamps and brackets. The new plastic clamps have fully preserved the
more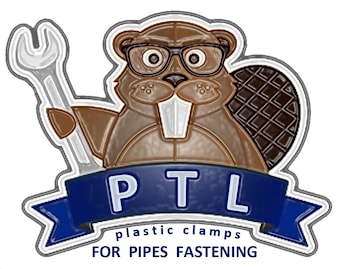 The production of plastic fasteners for pipes under the PTL brand - Beavers has launched. Fasteners are designed taking into account industry standards in construction and take into account the opinions of professional assembly organizations using
more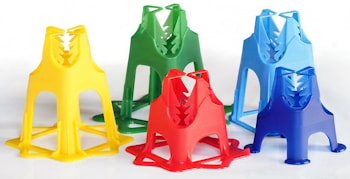 We have just launched production of the first of our self-designed batch product – plastic rebar spacers under the PTL brand. Plastic PTL rebar spacers are designed to create the predicted concrete cover from 25 to 160 mm and used to
more